Safety instructions
when approaching and leaving a helicopter.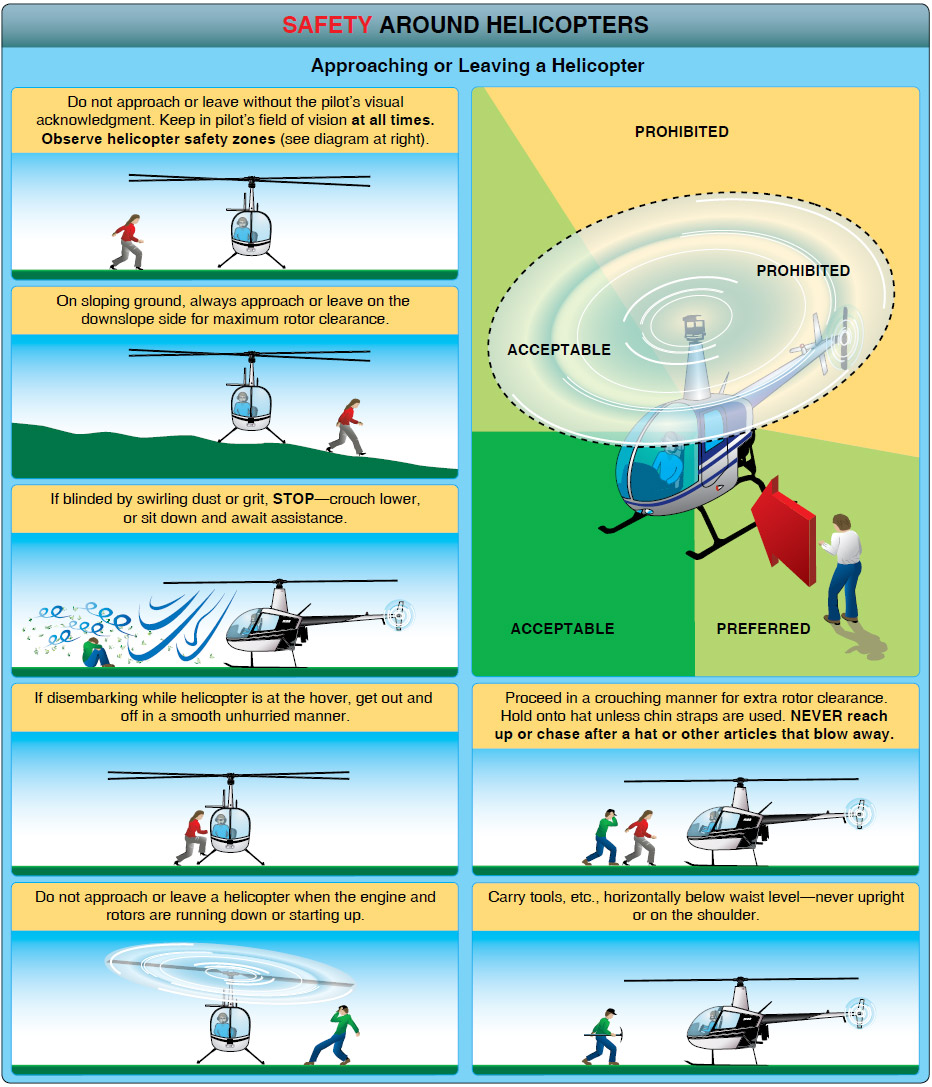 Stay away from the rear of the helicopter.
Approach and move away from the helicopter in a crouched position.
Approach from the side of the helicopter without leaving the pilot's field of view. Certain rotor systems allow the rotor blades to run closer to the ground toward the front of the helicopter. For this reason, it is common practice for personnel to approach from the side of the helicopter.
Loading & unloading is prohibited for passengers. For helicopters designed for rear loading, personnel must exercise extreme caution due to tail rotor hazards.
Carry tools or similar objects horizontally, below waist level – never vertically or over the shoulder.
Hold hats and loose items tightly.
Never reach for or jump after a hat or other object that could be blown away.
Protect your eyes by covering them with one hand or squinting.If you are suddenly blinded by dust or a flying object, stop and crouch; better yet, sit down and wait for help. Never grope toward or away from the helicopter.
Protect your hearing by wearing earplugs or headsets.
Selfie sticks or similar film & photo equipment must not protrude from the helicopter and must not restrict the pilot's field of view at any time.
The crew will help you to put on & take off the seatbelts
Do not open the doors without authorization. The crew will help you board and exit the helicopter. Exception in case of emergency: Keep calm, open doors and belts independently and leave the helicopter. Contact 911.
Dangerous goods Smoking, fire and dangerous goods (flammables, explosives, fireworks, pressure vessels, etc.) are prohibited.
Equipment for mountain tours: pack hiking- or trekking-shoes and warm clothes.
Problems or Discomfort: They communicate via headphones. In case of physical discomfort, inform the pilot at an early stage.
Notice Dangerous Goods Aviation Authority (external link):
https://www.austrocontrol.at/en/aviation_agency/dangerous_goods